---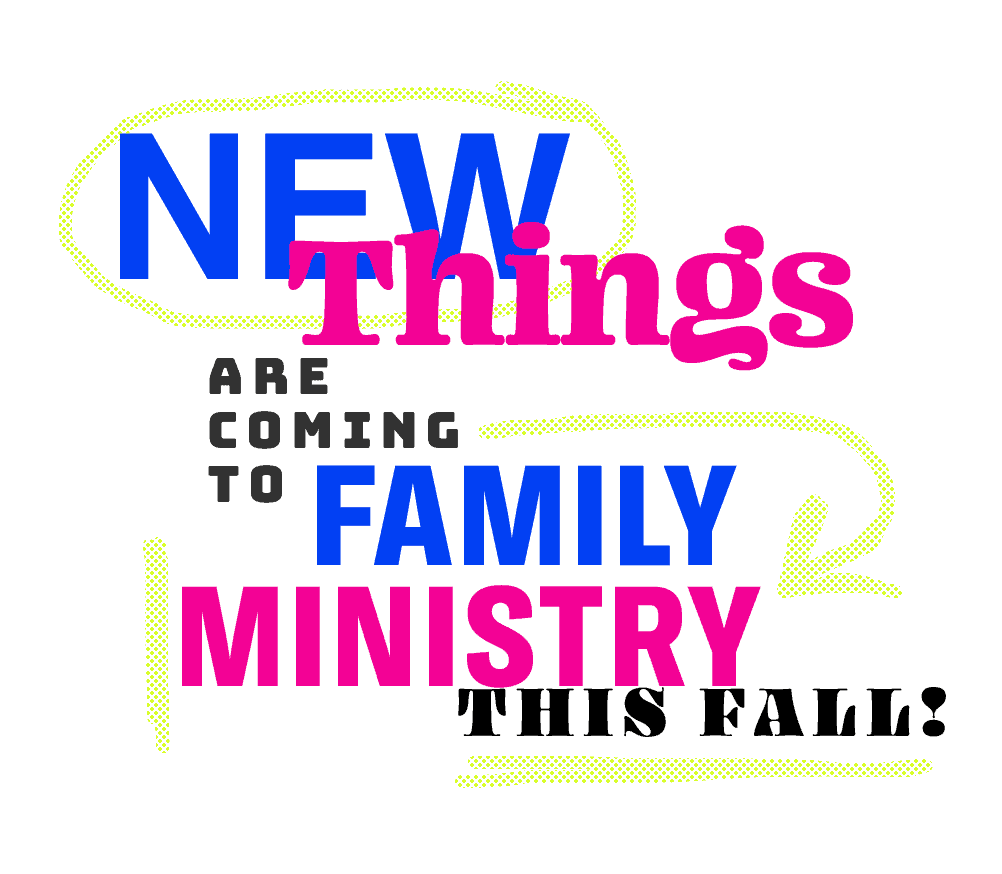 ---
We are so excited to announce that what was formally known as "kid's ministry" will now be known as "family ministry!" It may seem like a subtle distinction, but we are so focused on making the whole family system get stronger, that this intentional distinction is necessary!
After months of prayer and planning, the youth and kids ministry teams have come together to form one unified ministry, and have officially integrated the vision, direction, and curriculum from ages 0-18.
Over time, we know you will taste, touch and feel these changes, but one thing that will be distinctive right away is this: launching both services of middle schoolers (ages 11-14) into a whole new classroom with our Youth Director, Joe. (Students aged 8-10 will remain in their classroom). High Schoolers will be graduated into what is effectively a "life group" for their age group focused on age-appropriate "power of moments" and "catechism" offered both services.
Where Faith and Fun Come Together!
---
We are a community where kids have a great time learning Bible truths. We've worked hard to provide a fun and safe environment that is Kid-Tested and Parent-Approved.
We believe that parents are the primary influencers so our mission is to partner parents. We also believe that when the household and the church come together there's nothing we can't do.
Our Family Ministry Team helps parents answer the question: what kind of child will our household produce?
One that is filled with love, joy, peace, patience, kindness, goodness, gentleness and self-control...? That's our hope and our aim.
When you drop off your children, nursery to 12th grade, they will experience a safe and fun environment, caring teachers and a lesson that will last a lifetime.
---
View Events and Announcments
---
Service Time
Our kids ministry meets at our 9 & 10:30AM services. If you walk into our building you will see signs directing you to the children's area on the left. We can't wait to see you and your family.
---
Age Groups
Early Childhood At Watermark, we believe it's never too early to introduce the gospel to our children. In the Nursery and Preschool Classrooms you will find safe, fun and exciting places for your child to experience the love of Christ and learn that the Holy Spirit is real and alive, and living in us. Through worship, Bible stories, games, crafts and prayer, our desire is that your child will have an encounter with Christ and grow in their relationship with Him.
Elementary Our Kindergarten through 5th grade Children's Ministry exists to help children deepen their understanding of Christ. We believe that children can have flourishing relationships with the Father and offer worship, storytelling from the Bible, response time - for them to practice what they learn, and fun activities and experiences to help stamp what they have learned. Our well trained volunteers will help them feel safe and welcome.
Check IN
Go to the kiosk next to the sign that says: Children's Check-In
If it is your first time: have a staff member enter your family into the system
Place a sticker on your child and take the accompanying sticker with you
You must show the sticker with the code on it to pick up your child
3rd - 5th grade children go in to service with their parents for worship and can go to their classrooms when they are dismissed
Our Volunteers
All of our volunteers at Watermark have been background checked and trained to make sure you child feels safe and secure. You can attend service knowing that your child's care is our utmost priority.
SHARE THIS WITH THE WORLD