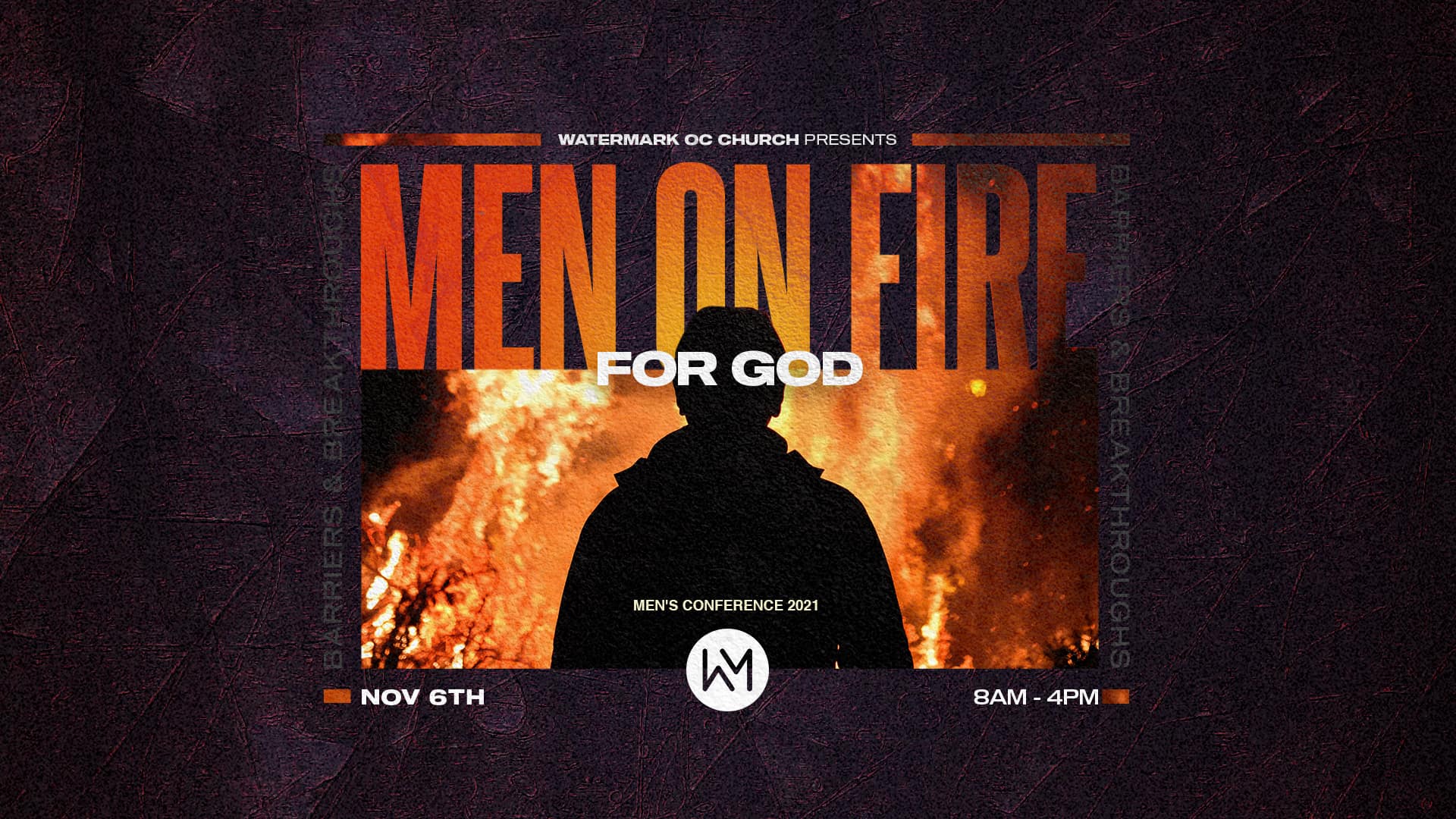 Men's Conference
Men on Fire for God
2021 Mens Conference, presented by Watermark OC Church
Join us on November 6th, 2021 from 8am to 4pm as we gather together as a community of men to talk through barriers and breakthroughs.
Continental Breakfast & Lunch will be served.
Cost: $25.00 per person
Scholarships for this event are available! Email [email protected] for scholarship information.
Morning Speaker: Bill Gaultiere, is a psychologist and ordained pastor, specializing in ministry to pastors. He and his wife, Kristi, are the authors of Journey of the Soul, which was #1 on Amazon in Christian Counseling. He was personally mentored for many years by Dallas Willard and Ray Ortlund Sr. His earlier book, Your Best Life in Jesus' Easy Yoke, tells the story of his spiritual renewal from anxious living and burnout and introduces the message and way of Soul Shepherding. As a Spiritual Formation Pastor, he's served in a mega-church and a church plant. He's also trained over 1,000 lay counselors and taught courses in Christian psychology and spirituality at the graduate school level. He and Kristi train pastors and other men and women in ministry in their Soul Shepherding Institute and Spiritual Direction certificate program. Bill has been speaking in churches and conferences since 1987 and especially enjoys speaking with Kristi. You can listen to their weekly Soul Talks podcast or read their weekly Soul Shepherding blog.
Afternoon Speaker: Aaron Guyett is a servant, husband, father, fitness educator, Marine Corps instructor, and founder of three organizations (Leaders of Leaders, Battle Ropes Education–sold 2019, and Innovative Results–sold 2017). It is the combination of these different aspects of Aaron's life—servant, husband, father, leader, educator, Marine, entrepreneur—that distinguishes him as a leader across multiple fields of life. He is passionate about leaders that develop leaders and disciples that develop disciples all to be a part of His Kingdom building Kingdom builders.