---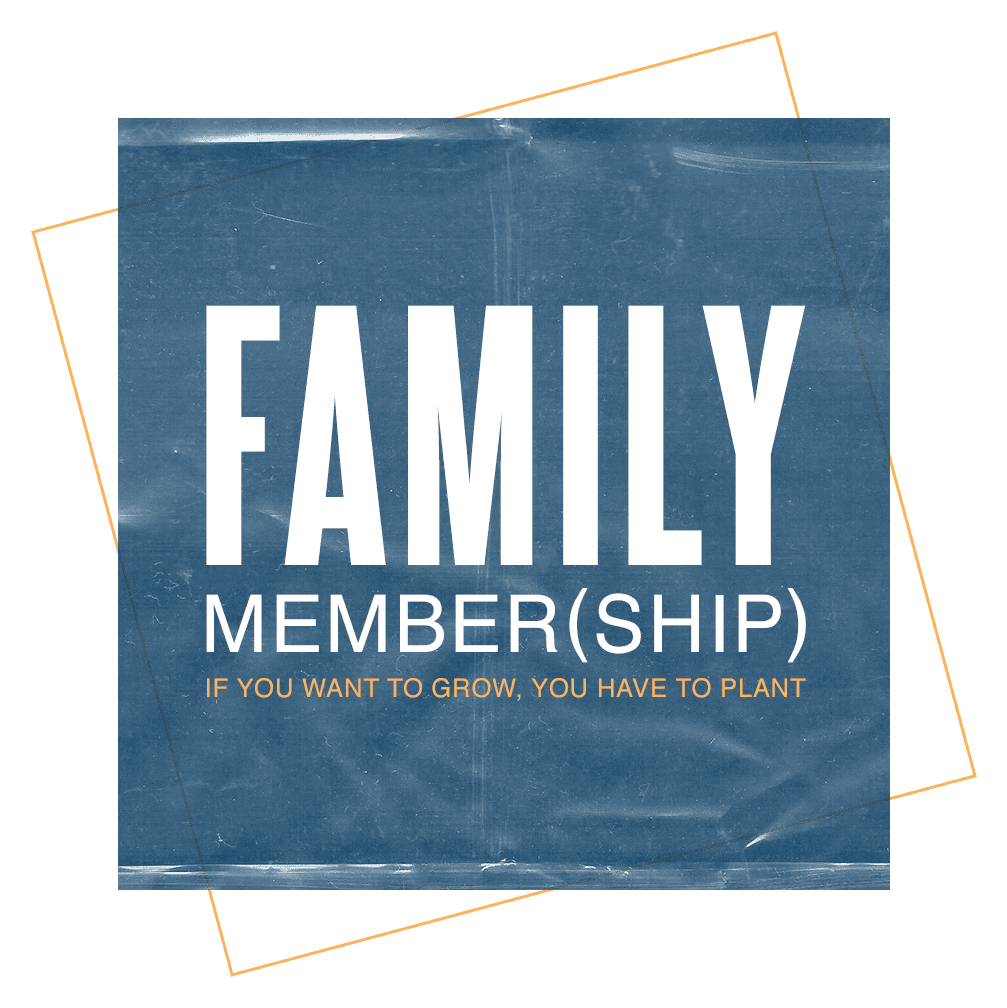 ---
In short: more growth, intimacy and transformation for the Family Member (you!). We sense the cultural battle for our time and hearts in today's fast-paced world and we are willing to fight for your hearts and those you care about. We believe that this more clearly marked path to discipleship will help you grow with God and those around you far more intentionally than ever before.
At the absolute core Family Membership at Watermark is about 3 key words: family, covenant and growth. It is true-you will not find the word 'membership' in the Bible. But you will find that the Word of God is replete with language around spiritual family or covenantal community as well as endless passages around plant-like growth.
Col 2:7 Let your roots grow down into him and let your lives be built on him...
Ps 1:3 He will be like a tree firmly planted by streams of water
Eph 3:17 and I pray that... your roots will grow down into God's love and keep you strong...
Col 3:13 bear with one another...
Ps 133 how good and pleasant it is when God's people live together in unity...
Heb 10 let us consider how to stir up one another to love and good works, not neglecting to meet together...
Rom 12:13 contribute to the needs of the saints and seek to show hospitality
Mat 12:49-50 here are my mother and my brothers! For whoever does the will of my Father in heaven is my brother and sister and mother...
Acts 2 and they devoted themselves to the apostles teaching and the fellowship...
Eph 2:19 but you are fellow citizens with the saints and members of the household of God...
On Covenant:
Deut 7:9
Ps 103:17
Heb 8:6; 9:15; 13:20
Jer 32:40
Gen. 17:7
First, its important to clear your mind of the modern concepts of denominational membership. This is not another church system for regulation, control and retribution. This is not a 'cool kids club' or a system for making people feel less than. While we will push to make this model administratively meaningful (taking annual surveys for Family Membership + helping people onboard as new Family Members all throughout the year), it is by no means a system that we will become subjugated by. Church systems exist to serve the people, not the other way around!
Family Membership is also not our ploy at creating a 'country club' culture with in-group and out-group norms. Family Membership is about setting a clear and high and bold standard and aiming for that because we believe it leads to better flourishing. To hold and elevate a standard for belonging is actually the most caring thing we could do because of what Jesus says in John 10:10 (the enemy comes to steal, kill and destroy, but I have come to give life and life to the full). Many of us current church attendees or spiritual sojourners are settling for less than full, abundant life and we believe it is our job as a church staff to lead and guide you to this abundant flourishing life. And just like having a dinner guest or a neighborhood BBQ at your home, we are committed to making room and creating safe spaces for cherished guests; they are always welcome, they always belong and they are always free to be in process!
There is absolutely no need to compare two different people who have the same inherent dignity, value and worth-regardless of the status of their walk with God! We hope to prove a few things... One, that the cherished guest is truly that: beloved, welcome, safe, unhurried... cherished! We believe that love is an action and we want to love every single person exploring God, the Bible and faith questions with the utmost honor. What Family Membership is about is loving all people exactly where they're at, but loving them enough to want more for them. Everyone has a growth area in their life and we believe that the combination of groups + serving is the pathway to spiritual, physical and emotional flourishing.
Attending a small group monthly.
Serving with a Church-ministry monthly.
It's truly as simple as that. And if you have problems in your schedule, location for meeting in a small group or you are having a hard time finding a ministry to get involved with to lend a hand, please consider these helpful links (groups link; serve link; other?) or email
ben.applebee@watermarkoc.org
(he's ready to take any and all questions about barriers to taking up roots!) If you fill out a Family Membership card detailing your group and area of service we will update your information in our church database software.
---
---
Ask a Question or
Get Support
---
Email
Text or Call
(949) 245-3329
---
---
NOT SURE WHERE TO GO FROM HERE? INTERESTED IN TAKING PLUNGE AND JOINING THE FAMILY?
---
Then register for our family member(ship) luncheon by clicking here.
---